What would happen if you made a tiny and extremely lightweight monocoque fastback coupe body and strapped on the well developed running gear and sub-frame assemblies from the highly competitive front-wheel-drive BMC Mini-Cooper S? You would have a blindingly fast and great handling little car called the Mini Jem.
This striking little sportster is the offspring of an imaginative race car, built in England in the early '60s, by Paul Emery for test pilot and amateur race driver Dizzy Addicot. This car, called the DART, (which stood for Dizzy Addicot Racing Team) consisted of a sharp looking coupe body, built of aluminium on an Austin Mini delivery van floor-pan.
When considered for production, it became obvious that the hand-formed aluminium body would be much too costly for a reasonably priced conversion kit. A fiberglass mould was created, based loosely on the DART, leading to a light, wood reinforced, fiberglass monocoque shell, to which the BMC Mini components could be bolted. These were marketed by Jeremy Delmar-Morgan (whose nick name was JEM) from around 1967. An upgraded Mk II model was later introduced.
Meanwhile, Jem Marsh had already joined with race car builder Frank Costin to form Marcos Cars. One of their early projects was the Mini Marcos, a car that was quite similar to the Mini Jem. Delmar-Morgan continued to sell Mini Jem kits and, while there was some success in competition, many of the early road-going "home brew" assembly jobs looked rough and unfinished, giving the marque a shabby image.
In 1969, the Mini Jem project was sold to Robin Statham, who improved the body in detail and started to market assembled "turn-key" cars as well as better appointed, painted and trimmed, body shells that only needed a set of running gear to be road-worthy. Statham sold the firm in the early '70s. The new owners stopped production in 1976 after a change in British tax laws, that favored "fully assembled cars", caused the virtual collapse of the kit car market. A derivative of the Mini Jem was revived once more in the early '80s as the Kingfisher. It is estimated that, all in all, 258 Mini Jems were built by the three company owners, 218 in Kit and pre-fab form and 40 as turn-key coupés.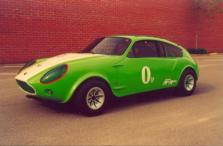 A beautifully detailed Mini Jem was bought by Don Ernst of Marina Del Rey, California at the Rick Cole 1984 Easter Auction in Universal City. The car, with its fresh Morris Cooper S running gear and better-than-fair British Racing Green paint job, was ready for the road - and the track.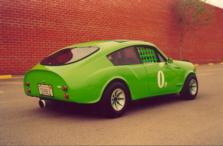 The shell-kit had been built in England by a David Evans, who shipped the car to the US and drove it from New York to his new home in California, then used the Jem for everyday transport. In 1981 it was sold to UCLA film student (now writer/director) Joe Ackerman, who drove it regularly until it was auctioned off to Ernst. A second Mini Jem was imported by Evans, again sold to Ackerman and it is now being restored and race prepared for vintage racer, Lynn Mills. A third Jem is thought to be somewhere in Illinois.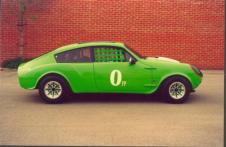 Don Ernst raced this Mini Jem (nicknamed the Turtle) in its BRG livery between 1986 and 1989, when he pulled it out of competition for a complete re-work. All of the fiberglass boxed frame reinforcements were drilled and filled with marine high density, expandable foam for strength, while the rest of the body was put on a diet. All of the windows were replaced with plastic, the windscreen with Lexan, and the heavy Webasto sliding sunroof was discarded in favor of a thin vinyl cover affixed with Velcro. This dropped the Jem's standard featherweight 1340 lbs. to an incredible 1060 lbs. Don worked with Grant Goracy of Van Nuys who did the body-work and applied the bright apple green finish. A now lighter and brighter Turtle was ready for competition at the concours or on the track.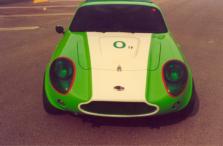 Don's Mini Jem has taken its class at Palm Springs, San Diego and won the Index of Performance award for Sports and GT cars under 3-litres as well at The La Carrera Classic in 1988. Since restoration he won his class and pulled a second fastest closed-wheel car at the Laurence Welk Hill Climb in 1989 and a second place in the Sports Car class at the 1991 Palm Springs Concours d'Élégance.
Rick Feibusch, California, USA
Mini Jem article Mini Update! Don has since moved to Arizona and the car was auctioned off about ten years ago un-raced and barely driven since its restoration.
I don't know exactly what it sold for (around £12,000 as I remember) to a buyer in Japan, as were a lot of our better and more unusual Californian cars of the day. - Rick