Mini Ds & Vs - Taylorspeed Jem - 1
This is the first in a series of articles for Mini Mag by VMCI member Tony Shaw, featuring some of the Australian Mini Derivatives and Variants. If you have any information that might assist Tony in future articles, his contact details are at the end of this article. Click on a photo to see a larger image.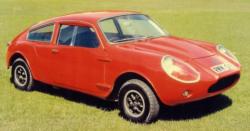 Take a lightweight and aerodynamic fibreglass body, bolt in Cooper S mechanicals, and you have a recipe for a potent road or race car.  Sell the body and parts as a kit to keep the price down, let the buyer supply and fit their own engine and other options, and you should have a sure-fire success on your hands.
That's exactly what Taylorspeed Distributors of Adelaide thought when they introduced the Taylorspeed Mini Jem at the 1968 Adelaide Royal Show.
John Taylor was an accomplished Mini racer, having raced a 997cc Cooper, holding several state records and being part of the Neptune Racing Team, and he was looking for a challenge. Taylorspeed had produced a "warm" Morris 1100 S (see Wheels January 1969), but the English designed Mini Jem looked like a great opportunity. Arrangements were made with Jem Developments in the UK to manufacture their Jem Mk I in Australia, and a complete fibreglass body was imported. Female moulds of the imported body were made at John Arnold's Surf Shop in Adelaide, with a number of modifications from the original, and the first batch of bodies made.
The Taylorspeed Jem body is made up of 2x2 layers of E glass bonded in a mould with resin and pigment.  At each pickup point an 18 gauge plate is bonded into the shell to prevent tearing of the body and to spread the load. The main Mini metal cross member is incorporated into the body, and rack and pinion mounting points are located with 18 gauge plates.  There are long metal stringers down the length of the rear floor pan and box sections in the centre section to create rigidity front to rear.  The door pillars have steel tubes bonded in, and there is an extra layer of fibreglass on the roof.  All up, the construction results in a very strong and rigid body.  The basic body shell weighs in at around 260 lbs (120 kg). When constructed the Jem is 11' 3" long (i.e. 15 inches longer than a standard Mini), 49 inches wide, and 41 inches high. It has about half the frontal area of a standard Mini and weighs around two thirds that of a Mini (depending on options, etc) fitted with Cooper S mechanicals, a Taylorspeed Jem was claimed to do 0 to 50 mph in 5.5 seconds, with a maximum speed approaching 120 mph (200 kph in new speak).
In order to keep costs down, the body was designed to accept many standard Mini components, including sliding windows, door hinges and latches, fuel tank (from a Mini van), lights, wiring loom, steering, etc.  Front and rear sub-frames simply bolted on, with either dry rubber or hydrolastic suspension. Mechanicals from a Morris 850 to a Cooper S could be fitted, along with the owner's choice of wheels, roll bars, etc. The power bulge in the bonnet was modified to accept either a Weber or SU carburettor set-up. The radiator was front mounted and an electric fan was offered as an option. The dash panel was left completely blank so that owner could select and install the particular instruments and switchgear he wanted.  It was estimated that about 50 hours effort would be required to build a Taylorspeed Jem from the body and a donor Mini.
Taylorspeed offered their Jem in kit form, with four different options available:
Kit A - prime painted and untrimmed body shell, doors and bonnet, and untrimmed bucket seats. Cost in 1969 was A$890.00
Kit B - As in A, but finished in a colour specified by the buyer. Cost A$1,090.00
Kit C - As in B, but trimmed inside throughout. Cost A$1,390.00
Kit D - As in C, but doors hung, bonnet fitted, windscreen and windows installed. Cost A$1,690.00
Taylorspeed also offered a range of options including Perspex window sets, laminated windscreens, competition brake linings, headlight fairings, close ratio gearboxes, fuel tanks, leather steering wheels, oil cooler kits, engine stabilisers, etc. Add the cost of a donor car to the kit prices above, and by doing the construction yourself, it was possible to end up with a very light and fast sports car for around A$2,000.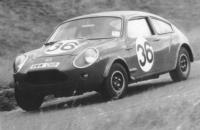 John Taylor built his Jem in very much the design of the UK Jems at the time. He used a 1275cc engine from an 1100S with twin 1½" SUs and a few other head and engine mods. Fuel tank was from a Mini van and rear lights were van lights fitted upside down. This original Taylorspeed Jem did the rounds of the car shows and was featured in most of the motoring magazines of the time (e.g. Sports Car World June 1969). John Taylor raced his car at Mallala and Collingrove with some success.
After Taylorspeed made and sold their original batch of bodies, the direction of their business changed (they were also Jensen and Lotus dealers), John Taylor became more involved in rallying Austin 1800s, and the Jem project was put on the back burner. A couple of years later, the body moulds were resurrected from the Surf Shop and a further batch of bodies was made by Ziggi Zwiatkowski1, who had been involved in the Surf Shop, and Neil Murrie, who had a service station in the Adelaide suburbs. All in all, it is understood that a total of ten Taylorspeed Jem bodies were made.  One of the bodies was apparently sold to a BMC dealer in Singapore, with the rest being sold to owners across Australia. The body moulds still exist in Adelaide, although they are apparently getting a bit tatty now (but then they are 30 years old).
Being sold as a kit, each Jem had the potential to end up quite different to all the others. Also, with a fibreglass body, it was extremely easy to make changes to suit the individual owner's desires. In fact, the first batch of bodies was made with a U-shaped rear window, which was modified for the second batch to be a more rectangular shape. Most owners who race their Jems add fibreglass wheel arch extensions for a start, and apparently at least one Jem has featured a high rear spoiler at some stage.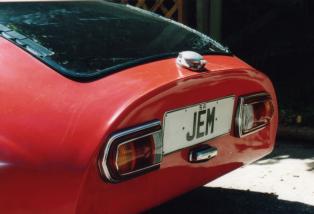 Craig Williams of Adelaide has a red Mini Jem that may be familiar to VMCI members from its excursions to the Hay Mini Nationals (although Craig hasn't been for a year or two).  Craig bought his Jem in 1987 and it runs Mk I Cooper S mechanicals with a 45 Weber carb.  He has a front mounted Austin 1800 radiator with an electric fan to help with cooling; an interesting centre console and dash; and a half roll cage.  Craig has fitted Mazda 1300 tail lights and replaced the original fuel tank with a CAMS certified alloy fuel cell with a central filler.  In time Craig plans to tidy the car up a bit, fit a full roll cage, remove the heater and add some better ventilation ducting for the cabin, and so on. Like any classic car, the work is never ending.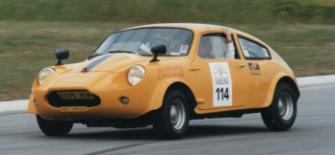 Sue Elliott in Perth has been very successful driving a yellow Mini Jem in Classic Rallies over the past several years.  Her car (well actually it's not her car but she drives it) boasts 1968 Cooper S mechanicals with a single 1½" SU carb, roller rockers, a 266 cam, and a variety of other modifications and enhancements. It currently runs 12" alloy wheels and appears may have had 13" rubber at some stage in the past. The yellow Jem has an interesting past history, having had Victorian registration at one stage and apparently having raced at Calder before heading west.
The Taylorspeed Mini Jem is a most interesting piece of Australian motoring history, and this article is only a brief overview.  Having spoken to several owners and some of the people involved in the manufacture of these cars, it seems that we can probably account for seven of the eleven cars (i.e. ten made plus the original import). If anyone reading this article owns, has owned or knows someone who owns a Jem, or has pictures or stories about the Taylorspeed Jem, I would love to hear from you. Please contact me on tonyshaw@ozemail.com.au.
---
1. I was pleased to be contacted by Johann Kwiatkowski who is the son of Sigmund ("Ziggi") and remembers when his dad had an orange Jem around 1977. RP